Volunteer at Church
Volunteer Opportunites
We offer several opportunities to volunteer at church. Review the list below and sign up now.
Sign up to Volunteer
Altar Guild prepares worship spaces for services held in the church, chapel, or gym. Members are also responsible for cleaning the altars, caring for the vessels, and securing the necessary articles to be used at any service.
Buildings and Grounds performs small repairs and general upkeep of the type that come up in every home; God's house is no exception.
Choirs There are many opportunities to share your musical talent to praise God in worship.
Copywriters talk with church and school leaders to gather information on upcoming events, then compile the information into a few paragraphs, which they send to the Director of Communications.
Garage Sale team members help with this annual event in a variety of ways: sort donations as they arrive, help set up the gym, organize donations as sale days near, and reset items or assist customers during the sale.
Gardening Team Adopt and care for an area in need of weeding or planting on our campus.
Generosity Team is charged with organizing our Time, Talents and Treasures as we serve the Lord.
Green Team Immanuel's Green Team is always looking for volunteers to cut and trim the grass on our campus this season. We'll supply the equipment, and we're hoping you will supply the [wo]manpower.
Greeters welcoming worshipers prior to services. It is a wonderful way for families to serve together!
Immanuel Lutheran School invites our church community to volunteer in the areas of Mystery Reader, sports concessions stand, lunch supervisors, library, and electives during the school year.
Prayer Partner Build relationships, reinforce the importance and power of prayer, and encourage and support students during their confirmation journey by becoming an adult Prayer Partner for one of Immanuel's eighth grade confirmation students. To learn more, contact Erica Ciro at 630.251.6761, eciro65@gmail.com.
Second Saturday Prayer Gatherings Join together to lift prayers to God for those with health concerns, for church and school families, during crisis situations, in thanksgiving or celebration, for comfort—whatever is needed.
SALT (Sound and Light Team) This group assists with special/festival services [Christmas] and programs [ILS Talent Show] in addition to their weekly presence at worship services, building and screening the order of service.
Study Leaders In the area of Children's Ministry: guiding small groups for Sunday School, Confirmation classes, and Vacation Bible School and leading large groups in Sunday School and VBS. Substitutes for these positions are needed, too. Volunteer leaders are also sought to lead adult studies.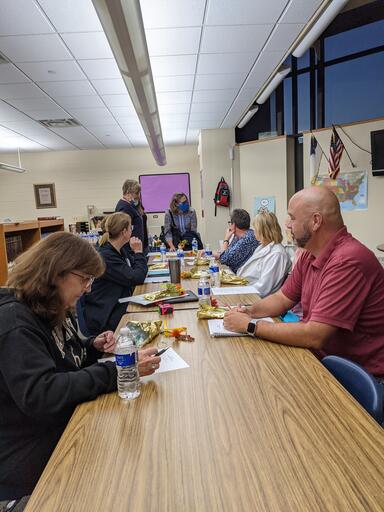 Sep 2021 Altar Guild Meeting.