Garage Sale
Immanuel's 2022 Annual Community Garage Sale Th-Sat, Jul 21-23
Please remember to save your leftovers/treasures for Immanuel's Annual Garage Sale!
Did you know...
A huge reason that we do this sale is that it is a resource for the community!
You can start dropping off Friday June 24 in the afternoon - in the triangle area. EXCEPT furniture cannot be dropped off in the fellowship hall until Wednesday June 29. (Immanuel is a polling place on Tuesday June 28.)
Remember no TV's, car seats/cribs, mattresses, computers/printers, paints/chemicals, china cabinets, armoires, men's suits, chandeliers, nursing pumps. Also, if it is broken or not wearable, please do not donate it.
Fun volunteer incentives include early shopping if you volunteer at least 8 hours (pre, during, or post sale), enjoying great lunches, doing good for our community, & hanging out with awesome people!!!
New this year...BLUE LIGHT specials on Friday and Saturday.
Are you looking for ways to volunteer so you can SHOP early? Do you have access to a truck or large vehicle? We get requests for furniture pick-ups; is that something you could do? Do you have a student that needs service hours? We can sign their sheet. Do you like to sort treasures, fold/organize clothes, ORGANIZE anything? Then the garage sale is for you. Please contact us at the email below or leave your name in the church office! 8 hours of volunteer work gets you in the EARLY shopping day on Weds July 20 from 6-8pm. Work starts on Monday June 27th. We can't wait to see your smiling faces! - Cindy Rueffer & Chris Graham
Updates are coming soon! Find out where the funds will be used from the Annual Garage Sale!
Questions??? Contact Cindy Rueffer at ruefit@msn.com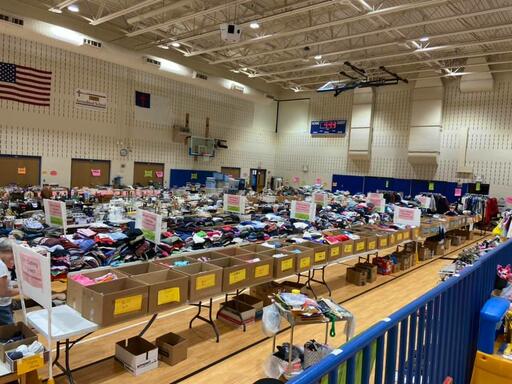 Aug 2021 Community Garage Sale