10.30.2022 Trunk-or-Treat
On Sunday afternoon, the day before Halloween, we hosted our annual community trunk-or-treat event in the school parking lot. Church and school families, along with many local neighbors, and friends from San Pablo came by to enjoy the festivities. Our trunk volunteers put a lot of time and effort into their creative decorations making this event a huge success and fun for everyone involved; some volunteers are already coming up with ideas for next year!
We had an excellent turnout of about 400+ trunk-or-treaters. Parents enjoyed browsing the trunks and chatting with friends and neighbors, while the kids were entertained with fun games, live animals, and LOTS of treats:) In addition to trunk decorations, our friendly volunteers helped hand out apple cider and pumpkin donuts and warm drinks to both parents and kids. After walking through the parking lot full of trunks, families were encouraged to submit their vote for the best decoration.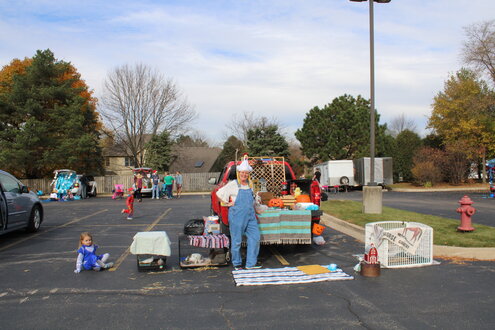 At the end of the day, votes were tallied to see who would win the competition for best trunk. This year's winner was preschool teacher Lisa Clark. Lisa filled her truck with live animals from her farm and set up a petting zoo station. The kids didn't care how long the line was, they eagerly waited for their turn to pet Mrs. Clark's live farm animals:)
Many thanks to all the volunteers that helped with and to the community members that attended this event, making it an enjoyable experience for everyone involved.